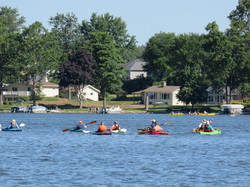 LAKE FUN- There is always something to do
Swimming, kayaking, fishing, sailing, boating, floating and so much more.
RELAXATION- Water is Relaxing
There are studies that support the claim that water provides relaxation. Imagine sitting on your dock and watching the sun set across the water. Can you feel the calm?
FREE OF NOISE POLLUTION Say goodbye to traffic
Semi-trucks, noisy neighbors, public busses and the sound of construction are left behind. Say HELLO to sounds of waves against the shoreline and geese as they fly overhead.
WILDLIFE Speaking of geese
All life needs water, which is why you share the lake with a plethora of wildlife; fish, ducks, turtles, cranes, and so many other beautiful creatures.
SENSE OF COMMUNITY Lake People Love Lake People
You are likely to build strong bonds with your neighbors in a waterfront community. You have a common bond; the love of the water and outdoors. Whether fishing off the pier or passing waves on the boat, friendships develop quickly.
LEGACY Great for entertaining
You will create wonderful memories for your family and friends at the lake. Exciting boat rides, roasting marshmallows over bon fires, casting a line or fireworks above the water… you are creating amazing experiences for your loved ones.
MONETARY VALUE Waterfront homes are typically worth more than dry lot homes
The location and type of waterfront can affect value as well. Water may not be limited but the land to build waterfront homes on is pretty scarce, making it much more desirable and pricey.
Take it from me, living on the lake is an amazing lifestyle! Choosing to live on a lake, whether full time or part-time, is a choice that is easy to make, and there is a lake to fit every desired lifestyle. You will love the community and everything a lake has to offer.
Contact me today to begin your Lake Journey!
RE/MAX LAKES
Mindy Scaggs, broker
mymindysoldit@gmail.com